EXTERIOR SUNSCREENS AND ROLLER SCREENS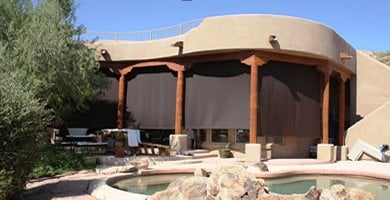 Made In The Shade Inc. Carries several different Brands of Interior and EXTERIOR SUNSCREENS AND ROLLER SCREENS! We Have Hunter Douglas, Skandia, Home Decor, Phifer Sheerweave, Mermet, and they come in Clutch and Crank! You can get most with a motor and remote too! Some times you need that little extra on certain areas of your home or patio, and a Sun Screen or Roller Shade may be just the thing to solve your sun control problems Today!
Twtichell's Solar Screen is a durable and tough TEXTILENE® brand synthetic fabric made of PVC coated polyester. Designed to reduce heat transfer through windows, this fabric also reduces the glare and harmful rays from the sun. While blocking the sun's rays, Solar Screen will reduce energy cost and provide protection to your indoor furnishings. Flame resistant and fade resistant, Solar Screen is a durable alternative for insect screen. Excellent for daytime privacy while only slightly blocking the view, (Remember Film will Enhance your View!) this versatile fabric will endure years of outdoor use (5 year warranty on fabric; Window Film is Lifetime). TEXTILENE® 90 Solar Screen blocks up to 90% and the 80 will block up to 80%, of the sun's rays. We can give you a Free Internet Estimate! Sun Screens can be an affordable option towards improving your energy efficiency and going GREEN!
SHEERWEAVE FOR INTERIOR AND EXTERIOR APPLICATIONS
Natural light can be a beautiful design element with a little sun management. Elegantly managing heat and glare from the sun can be accomplished with Phifer SheerWeave Interior and Exterior sun control fabrics. SheerWeave's light-filtering qualities diffuse light, reduce glare and help control solar heat gain to make any room a more comfortable environment. Go the the Phifer Website to see the huge selection of beautiful colors, but don't lose our site so you can get a FREE Internet Estimate! Read More