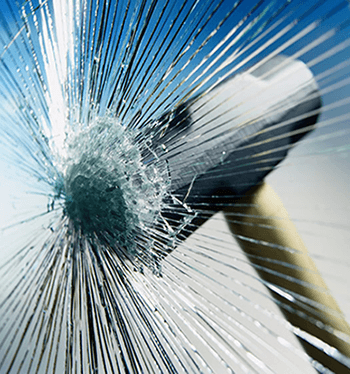 SAFETY AND SECURITY FILMS
Our safety and security films are a tough, durable, tear-and-penetration resistant shield (2 to 20ml thick!) that bonds to the surface of your windows for protection.
The film helps hold the glass together to dramatically reduce the chance of glass shards falling or flying out, even under direct forces such as; Bomb Blast, Winds, Earthquakes, Hurricanes, or impacts from flying objects or heavy devices used for Breaking and Entering. There are also films available to protect your exterior Glass against Graffiti by paint or etching! Graffiti film is also available in various thickness' from 4 to 8ml Clear. There are also many choices available in, sun control exterior Outside Weatherable Films with 3-5 year warranties!
Ordinary window films are easier to tear, but due to our variety of Manufactures and the variety of thickness, Safety and Security films are available in, we can find the right protection level of incredibly strong and penetration-resistant film to meet your needs. Film that has been tested and proven across the World. Many of these films are also available in a Sun Control Version to help reduce your Energy Cost, Cut Glare and further help reduce Fading! We can apply different thickness; to both inside and outside surfaces and Attach the film edges on one or both sides of the glass, to the frame for different degrees of protection, depending on the threat and your specific perceived need!