Spectral Select Films have been around for over 40 years in the form of VKool and there is no better made! It was the first and is still the best Spectral Select Film!
We carry other manufactures Spectral Select Films that are more affordable and still perform exceptionally well such as: Ultra Vision, Advanced Ceramics from Madico and Geoshields Iris 70.
If you do not want to know the film is there and want/need the light in the room, Spectral Select Film is for You! You can go to the Contact Us Page or Home Office Estimate Page and fill out the form for a Free online estimate or just call 480-985-9293 for information or to schedule a consult in Your Building!
Spectral Select Film VKool 70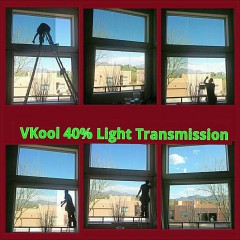 IT JUST DOESN'T GET ANY
GREENER THAN
SPECTRAL SELECT FILMS!
The Clear Green Advantage
---
94% – 98.3% infra-red rejection
99% ultra-violet protection
43% – 73.2% Visible light transmission!
55% -75% Heat Protection!
Spectral Select Coatings are easily applied on the interior of existing Window Glass!
FOR YOUR HOME
Use of a Spectral Select virtually clear applied film, will allow you to "open up" living spaces that would not otherwise have been suitable for large glass areas. Designers, Architects and Engineers of custom homes and commercial interiors are able to freely select furnishings, fabrics, and window treatments with far less concern for fading damage. This means window film can be used to solve a home or building's overheating problem without changing its interior or exterior appearance."
You will enjoy a Light and cheery room without the heat and high utility cost!
FOR COMMERCIAL
Spectral Select films are ideal for Office buildings where people need to see to work. Visible Light is important to seeing and with these films you get the light you need to see, but the Heat light is removed, so there is no need to add interior lighting. Darker films may cost less but they will cause you to use more interior lighting, thus increasing the interior heat and countering the Film. Films Like VKool have a Low Emissivity (this is the rate heat flows through the glass: heat always flows to cold), it will Decrease it by almost half! and that works for you year round!
FOR AUTOMOTIVE
When applied to the windows of your car, Spectral Select Films Like V-Kool, Winco and Geo Shield, form a virtually clear, protective barrier against the sun's heat. So if you want a film that you can't tell is on the vehicle, this is the type of film for you! We have films so light you can tint the windshield and stop half the Heat!
These coatings help to lower temperatures quickly at start up, allowing the passenger cabin to cool faster. You cruise in comfort, subjecting your air conditioner to less strain and improving fuel efficiency by 3% according to Visteon Corporation and the Department of Energy's National Renewable Energy Laboratory. Spectral Select Films also protect your skin and your car's interior having been rated at as high as 200 SPF (Skin protective factor.)