ADVANCED CERAMIC TINT-FILM
ADVANCED CERAMIC TINT-FILM offers a Spectral Select performance that allows in 2 times more light than a Dual Reflective or Reflective film with a low reflective neutral appearance.
ADVANCED CERAMIC TINT-FILM are a less expensive alternative to high end Spetral Select Films like VKool but a little more expensive than Dual Reflective, Reflective and Non Reflective Metalized Tint-Film.
We have two types of ADVANCED CERAMIC TINT-FILM Auto Films to choose from as well!
Read through the information and take advantage of our Free Online Estimates or Contact Us Page or just call 480-985-9293 to get more Information about Advance Ceramic Tint-Film or to schedule a Consult at Your Building!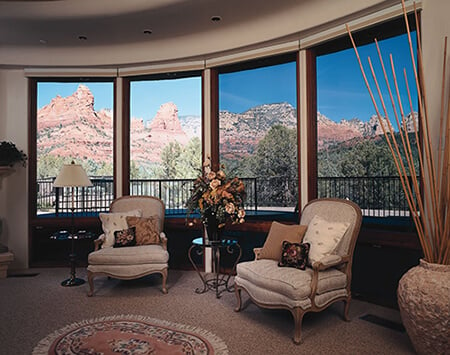 Introducing High-Definition Ceramic Window Film!
The AMAZING NEW Nano Technology of Advanced Ceramic Tint-Film is combined with all the benefits you expect from traditional window films!
There are several shades to chose from and several manufactures! Ceramic films are great because they have a High Definition Clarity and from the either side, visually, it is hard to tell it is on the window! This is a great film for H.O.A. restrictions and for those who want the light but not the heat!
CERAMIC FILMS AT A GLANCE!
99% UV protection – Reduces the fading of your furniture and artwork, while protecting you from harmful rays
Superior infrared rejection, so you can have more Visible Light
Natural tones, Crystal Clear Views, and Very Low Reflectivity
Enhanced shatter resistance for safety
Improved energy savings – These films help reflect the summer's heat, and retain interior warmth in the winter
Reduces Annoying Visual Glare
Durable, scratch-resistant coating, for worry free maintenance
Ceramic Films have great Manufacture Warranty's!
Ceramic films are cutting edge technology and have proven to be extremely durable. These films will have a Lifetime Warranty on Homes, when installed by a Certified Professional, Ceramic Films have a 15 year Commercial Warranty! Obviously the film is built to last! If the film ever fails during the warranted period, it is replaced FREE of charge!Give us a call or click below to get the process started and turn your glass into High Definition Ceramic Coated Glass!